The topic of green tinted multi-coated objective lenses has been on the table for some time with the primary issues being: how many were manufactured, who manufactured them, and what is the typical quality of the lens as compared to the non-tinted Unitron/Polarex lens.  This section is intended to form the basis for information on the tinted 3″ and 4″ objective lenses that were found on some 1970's and 1980's Unitron/Polarex Models, and also found on replacement lenses.  Including my own non-serial numbered (N-SN) 4″ Model 152 Unitron green tinted multi-coated lens, I have had the opportunity to physically inspect and observe through four green tinted lenses (mine plus SN 5028, 5061, and 5106).  I have also had discussions with several owners who possess and have star tested a number of both non-tinted and tinted lenses.
As the registry is compiled I am attempting to gather information on dates purchased, potential variations in the tinting, and star testing.
Below is a registry of those telescopes/lenses including both serial numbered and non-serial numbered (N-SN) lenses.
3 inch Objectives:
C-528 – Dave Trott – 3″ 131-C Unitron
C-553 – Michael Eastman – 3" 131-C Unitron
C-557 – Tony White – 3″ 131-C Unitron
C-572 – Jim Hornaday – 3″ 131-C Unitron
C-574 – Unknown – 3″ 131-C Unitron
C-599 – Dave Trott- 3″ 131-C Unitron
C-601 – Alan Andersen – 4" 132-C Unitron
C-602 – Private Owner – 3″ Alt-azimuth Unitron (Deep Blue Tinted)
C-614 – Chris Wells – 3″ 131-C Unitron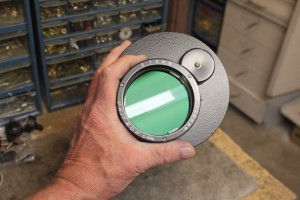 4 inch Objectives:
5028 – Private Owner – 4″ 152C Unitron
5029 – Clint Whitman – 4″ 155C Unitron (Purchased Eastern Canada)
5045 – Unknown – 4″ 152 Unitron
5051 – Vic Menard – 4" 155C Unitron
5053 – Stephen Franks – 4″ 160 Unitron (Acquired 1980)
5056 – Unknown – 4″ TBD Unitron
5058 – Unknown – 4″ 152 Unitron
5061 – Private Owner – 4″ 152 Unitron
5071 – Tony White – 4″ 152 Unitron
5106 – Private Owner – 4″ 160 Unitron
6002 – Max Lattanzi – 4″ 132 Polarex
N-SN – Dave Komar – 4″ 152 Unitron (Acquired March 1989)
N-SN – Dimitrios Barounis – 4″ Polarex Objective (Acquired Skylight Telescopes in UK)
N-SN – Dimitrios Barounis – 4″ Polarex Objective (Acquired Greek Polarex Distributor)
N-SN – Dave Trott – 4″ Unitron Objective (Deep Green Coating)
N-SN – Dave Trott – 4" Unitron Objective (Deep Green Coating)
N-SN – Dave Trott – 4″ 155C Unitron Objective (Mild Green Coating, Ordered 1973)
N-SN – Dave Trott – 4" Unitron Objective (Mild Green Coating)