Castleton University, Castleton, Vermont, USA is home to a 1960's vintage Unitron Model 620, 6 inch Photo-equatorial refractor.  It is one of only three complete Model 620's available for public viewing (the other two being the one at Rafes Urban Astronomy Center, Denton, Texas; and the one at Ferris State College, Big Rapids, Michigan).  It is also the only Model 620 with an operational weight driven clock drive.  This instrument was discovered during NEAF 2015 when members of the Green Mountain Alliance of Amateur Astronomers (GMAAA), who are responsible for maintaining the telescope, stopped by the Classic Telescope booth and identified themselves.  I had an opportunity to visit and observe with this scope during a trip to Vermont in October 2015 and some photos of that visit are attached.
The group's recent actions to step up their Outreach activities has resulted in an increased interest on the part of the school administration.  Castleton University hosts a summer concert series in their pavilion every Tuesday evening.  They advised the event coordinator that the observatory would open after the concert for anyone wishing to stop by and an announcement was made during the concert.  So far, the weather has cooperated reasonably well; they have only had one night they couldn't observe.  The attendance has been anywhere from a little over a dozen to over 30 on a couple of nights.  They have also gained the interest of a couple of professors at the university, one of which has been there almost every night.  They were recently asked by the event coordinator if they would open up on a Wednesday, as they were hosting a college trustees event, and wanted to show them the scope.  They, of course, welcomed this opportunity to show off the 620 and were impressed with the enthusiasm expressed by not only the Castleton University trustees, but those of other colleges as well.  The next photos are from that event (courtesy of Pat Porch).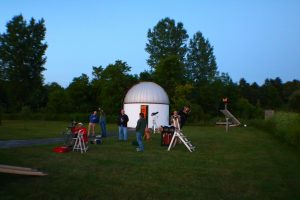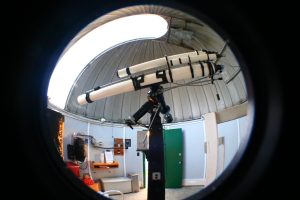 Some of the photos from my visit in the Fall, 2015.  While I was there we were able to spend some time working on a tracking problem and also do some observing.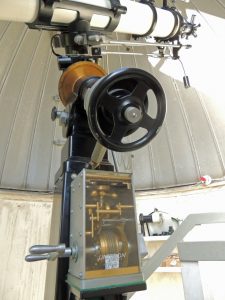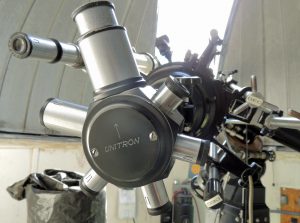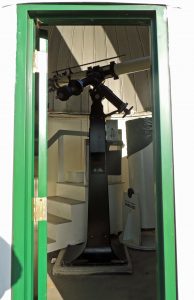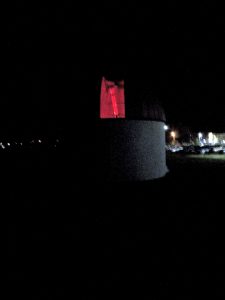 From these photos you can identify the 4 inch guide scope, the 100 mm, f/5 astrograph, and the weight driven clock drive.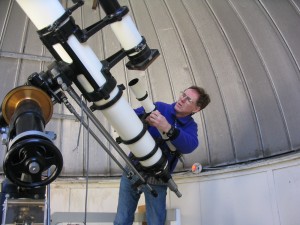 These are the most recent photos provided April 26, 2015.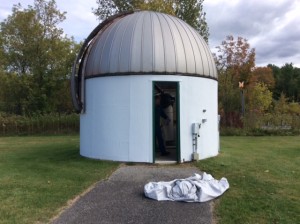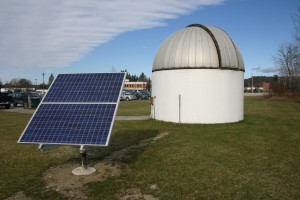 A November 2, 2016 news article about the Castleton Model 620 can be found here: http://www.suncommunitynews.com/articles/the-vermont-eagle/vermont-astronomers-restore-a-classic-telescope/