I got my first telescope in 1960 at the age of ten. It was an Edmund Scientific 4.25-inch Newtonian. My interest in astronomy was sparked and it only increased as the years passed. So did my interest in bigger and better telescopes with dream instruments far beyond my financial status; Questar, Criterion Dynascope, Cave Astrola, Starliner, and especially Unitron.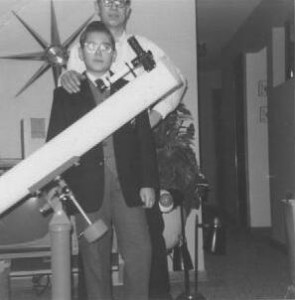 Owning a Unitron 160, Photo-Equatorial, begun as a 13-year-old's dream, finally became a reality at age 30 with the "Holy Grail" finally in hand. The retail price, always a king's ransom, rose steadily year after year until it reached $3,275 in 1982. I worked hard to set aside the money. How I managed it remains a mystery.
New York City and the Holy Grail
In early 1980 I began to torment a certain Roger Re, owner of R.V.R. Optical, in New York City before pulling the trigger. We finally struck a deal after several phone calls and Roger's price for the 160 [complete] was $1,888.00, far below anything The Polaris Telescope Shop likely could have offered. I have long forgotten the huge bargain Roger gave me until a recent discovery of the original receipt. Roger eagerly asked when my check would be forthcoming. Then came a sudden brilliancy! I would go to New York to close the deal. Collaring a friend, I instructed him to grab a clean shirt and tie. Tickets in hand, we boarded the train from Detroit to New York the following day.
This was an overnight 1,100 mile rail journey that included long stretches along the beautiful and winding Hudson River. Dawn came after a rather anxious and sleepless night. A refreshing cleanup and hearty breakfast helped kill the time as we watched the scenic Hudson River valley roll past the dining car window. As noon time approached, we finally reached the environs of Manhattan. I distinctly remember that last leg of the journey to Grand Central Station. We traveled at a snail's pace under the city streets. An occasional open grate revealed the crush of cars along the busy avenues above that was New York.
Roger Re met us enthusiastically at Grand Central Station. I was dressed in black, sporting a vest, tie, and a gold chain watch. I was purchasing a retro 19th-century refractor after all and had to look the part. An exchange of introductions, a short chat, and we began our brisk walk to his van. We proceeded immediately to Unitron's offices and warehouse. Our layover time in New York was a matter of hours. The company was headquartered just 45 minutes away in a warehouse district in Plainview, N.Y. I cannot relate the excitement finally spying Unitron's sign over the clean, modern warehouse and main offices. Our arrival was expected and we were promptly greeted by some Unitron official. As we entered the lobby and showroom, our eyes immediately gravitated to the sparkling white display of Unitrons, from the humble 2.4-inch to the new and imposing 5-inch, pier mounted observatory model. Quite majestic to say the least! Next to the 5-inch stood the 160 Photo-Equatorial. It was just as beautiful as the brochures had promised, but looking smaller and a bit more humble overshadowed by the 5-inch observatory model. Above all this was a large Unitron banner, or sign, bearing the familiar motto – UNITRON Excellence by Design Since 1952.
Our small talk about Unitron, refractors, and telescopes in general eventually drifted off into a private conference between the Unitron official and Roger. As the dealer, Roger was "acting intermediary" and given complete charge to close the deal. I plunked down my money – $1,888.00 cash. (It had been tucked, uncomfortably, in my sock for most of the trip.) Papers were signed, and then we waited for the warehouse to give birth to my long awaited pride and joy.
Unitron was dumbfounded to learn that my protege and I had traveled all the way from Detroit by train to take delivery of my new instrument. They proceeded to load up Roger's van, and after a gracious handshake and a good-bye, we began our return trip to Grand Central Station. Our precious cargo was efficiently loaded into the waiting train's baggage car. The weight drive was packed separately and was far too expensive and delicate for the baggage car. It was agreed that I should keep it with me in the passenger section of the train. Imagine carrying and holding a heavy, solid brass clockwork for 1,100 miles and just dying to look at it. It accompanied me everywhere – to the club car, to the lavatory, and the dining car. Like a mad bomber and his charge, it never left my sight. Finally, our long journey ended where it began – in Detroit the following day. After surveying my several large and heavy cartons, five in all, I spent the afternoon unpacking. Parts and excelsior were everywhere with me sitting in the center of the pile and totally overwhelmed by it all.
I would like to report my great happiness over the next few weeks, but I was a very miserable fellow. Nothing seemed to go right with the telescope. I was also relieved of almost $2,000 and suffering buyer's remorse. Looking back now, the instrument was perfect and far from defective, but it was such a handful and so fussy to operate, that it was simply beyond my depth. This was a scientific instrument and I had been playing with toys. A working relationship slowly developed over the next few months, but it was not until accepting an invitation to a star party that I did a complete 180. Despite its smaller aperture competing against all sorts and sizes of Newtonians and Schmidt-Cassegrains, it was the Unitron's imposing appearance and all brass clockwork that quickly made it not only a focal point, but the darling of the star party. People lined up for a quick view through a refractor. The Unitron's binary stars and "text book" diffraction patterns proved crisper than the Newtonians, and its planetary images were far more solid and well-defined than the Schmidts. I was gratified beyond measure with a new found respect for my 4-inch Unitron. This admiration has continued to this day and I do not regret its purchase.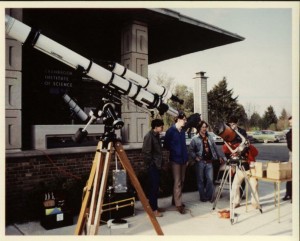 It is now 2013 and nine telescopes of various designs and sizes have come and gone. Even a custom built, 6-inch f/12 refractor. But it is my 4-inch 160 Unitron, "old reliable", that goes with me to the grave. Bringing her back into good order these last months has revived my old feelings of respect and care after a storage of more than ten years. And, it is good to be back under the stars again. The Unitron has never performed more admirably, and I swear it seems to have been waiting patiently for my return to the eyepiece.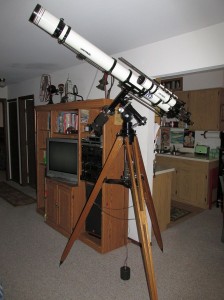 The objective and coatings are clean and free from scratches or any sign of deterioration. A few tweaks with a collimating eyepiece and the optics are still as perfect as they were 33 years ago. The weight-driven clock drive, cleaned and now properly oiled, runs with amazing precision.
A recent revelation indicates that my objective lens, #5053, was from a small batch of lenses made by Pentax, and is considered one of Unitron's "Jewels in the Crown" with its perfectly figured surfaces. A renewed interest in the classic refractor by collectors has sent values soaring since Unitron's closure. It would seem this beautiful example of the optician and machinist's art was a wise investment after all. With its towering dimensions, elegant design and performance, this venerable refractor still draws fascination and admiration from curious onlookers.
– These are the thoughts and musings of an amateur astronomer.  Steve Franks, 2013