2.4″ (60mm), FL 900mm; Altazimuth Refractor – complete with mounting and slow motion controls for both altitude and azimuth, tripod, 5X-16mm viewfinder, rack and pinion focusing, 4 eyepieces, choice of UNIHEX or star diagonal and erecting prism system, sunglass, dewcap, dustcap, wooden cabinets
Additional accessories available: DEUTRON double eyepiece, Sun projecting screen with UNICLAMPS, Astro-Camera 220 with Accessories
The Model 114 2.4 Inch Alt-azimuth Unitron is perhaps the icon of the Unitron brand.  This is because at $125 for most of the 1950's and 60's it was the most affordable for the young amateur astronomer.  It is also the model most represented in the Sky and Telescope advertisements of those years.
Dave Komar is the original owner of the first model featured.  He purchased the telescope in November 1959 while living in Pittsburgh, PA.  Following a minor restoration, it is in near original condition.  The telescope traveled with Dave throughout his thirty year military career and was his primary instrument from 1959 until he purchased a second Unitron Model 132/152 in March 1989.  The telescope has been used to view skies in American Samoa, Australia, Japan, and Guam…as well as throughout the United States.
This 1959 Model 114 was purchased with the UNIHEX option, as shown in the original B&W photograph.  It has black plastic control and focuser knobs, blocked UNITRON lettering, and a white with red lettering dust cap; the wooden cabinet has the metal Unitron name plate with blocked lettering; the UNIHEX with black clamp came in a wooden case.  The OTA with eyepieces and mount/tripod all fit in one wooden case.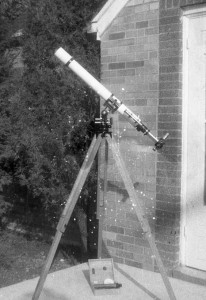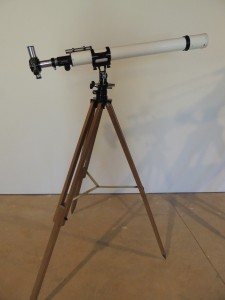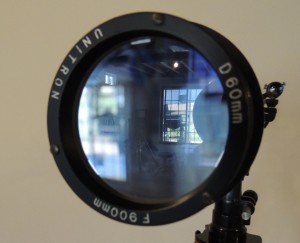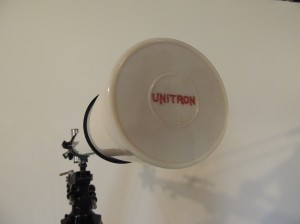 ---
This second featured Model 114 belongs to Gerald Elkin and is thought to be vintage 1959 also.  There are slight variations from the one owned by Dave Komar which is a confirmed 1959 acquisition.  Those variations include the cabinet, the UNIHEX clamp, and the locking screw for the mounting cradle.