4″ (102mm), FL 1500mm; Photo-Equatorial Refractor – complete with Equatorial mounting and slow motion controls for both declination and R.A., setting circles and veniers, weight-driven clock drive with governor and speed regulator, metal fixed pier, 10X-42mm viewfinder, super rack and pinion focusing mechanism with clamps, 9 eyepieces, Super UNIHEX, sun projecting screen, solar aperture diaphragm with two apertures, sunglass, pocket eyepiece case, dewcap, dustcap, wooden cabinets, tool and hardware kit;  2.4″ Photographic Guide Telescope with UNICLAMP Mounting brackets, 78X(9mm) crosshair eyepiece, star diagonal, and UNIBALANCE tube assembly; Astro-Camera 220 with accessories; 4″ UNICLAMP mounting brackets
The first model shown is an all original 1956 Model 166 meticulously restored by Jon Miles.  It was essentially a one owner scope before Jon acquired it in 2015.  The Unitron Model 166 was purchased from a photography shop in Chicago sometime before May 14, 1956. This Model 166 has to be very early production as the Model 166 first came out in the fall of 1955. The original owner's parents thought he was insane to spend so much money on this telescope (at 15 years old), but he had aspirations of being an astrophysicist. The photography shop was a Unitron dealer but did not stock a Model 166. (not surprising given the price and that the model had only recently been announced).  So the telescope had to be special ordered. Price was $1280 plus $99 for the optional Field Tripod: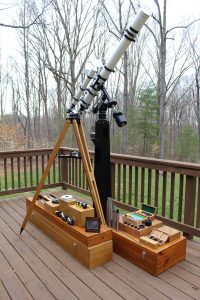 The following photos courtesy of Gerald Elkin represent an upgrade to his 1964 Model 160 with the addition of a fixed pier. Check out the Unitron Model 160 for additional details on this scope.