My story is very common among amateur astronomers.  My interest in astronomy started at the age of 12 years in the 1970's. My first telescope, a 40mm Polarex, stood in the window of a shop in my hometown of Ypres, Belgium. I wanted the scope, but my parents told me that I had to work for it. It took me 6 months to get the money.  What I didn't know was that my father had already bought the scope and asked the store owner to hold it for me.
With this small scope I took my first photos of the moon and the solar eclipse of 1976.  Later I got a 76mm equatorial Polarex with the motor drive.  What a beauty! With it I continued with my interest in astrophotography.
From this point on, photography became the biggest passion in my life.  I studied Art Photography at the Royal Academy of Fine Art in Ghent, Belgium (1982 – 1986). From then on, astrophotography was always a part of my passion.  I did research on the history of photography, especially the period 1880 – 1950 and started collecting vintage photographs.
In 1989 I worked for a Belgian company that invented modems and other early internet equipment.  This was very decisive for me and the start of my thinking and acting globally.  A lot of amateur astronomers don't have much time for their hobby when they start working in their twenties and the same was true for me.  During this period of my life I had an international career in Europe in marketing and publicity.
In 1996 I took up astronomy again.  I also decided to start my own business, Anamorfose Photo Gallery, which specialized in vintage art photography.  Soon I started collecting and selling early astrophotography.  Studying the history of astrophotography is still a very big part of my life. Not only the historical telescopes but also the photographs taken with these instruments.  That's the reason I'm fascinated with fine optics and beautiful photographs.
In 2012 I was at a photo fair near Versailles, France.  On a table I saw several wooden boxes and immediately recognized the style of the boxes.  There were 20 boxes containing Polarex parts.  One box contained a 16cm lens.  You can't imagine my shock.  When I asked the seller if he had the telescope, he said it was in Belgium.  Even better, it was in Kortrijk, a city very near to where I lived.  I contacted the lady whose husband bought the big telescope.  After a long story and a lot of coincidences I was able to visit the house and search for the scope.  In the basement I found the large wooden boxes with the tube, mount, pier and supporting plate.  I called some friends who were in the construction business and with a small crane we were able to move the scope.  Everything was in excellent condition, hardly touched.  After some research I found that the scope originally belonged to Jean Meeus, a Belgian Astronomer well known for his mathematical publications. This was really a dream scope.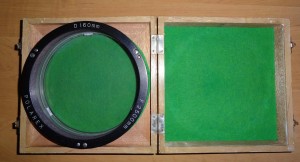 My first plan was to construct an observatory in my backyard. It needed to be an observatory of at least 4 meters diameter.  For such an observatory with a dome you need a building permit.  Since I live in the center of a small town I didn't get the building permit.  I attempted several other solutions with little success.  After a year I decided to sell the "Big Polarex".   I received a good offer from an American gentleman and the scope was shipped to the US.
At the same time, I was collecting Polarex and other classic and vintage scopes.  My purpose was to build a smaller observatory with fine vintage telescopes.  Therefore I had to buy and sell a lot of scopes.  The internet is a wonderful tool to do so. Now it's a part time occupation.  I love to work with these classic telescopes.  They have history and are sometimes technological marvels.  Also, the realization that so many important discoveries have been made with these scopes make them magical.
Once I had a 25cm (10") Newtonian made in 1922 for a French astronomer by Maurice Manent (a French telescope builder and pupil of Secretan) with one of the first Zeiss mirrors.  Knowing that this telescope was used for searching comets added something to the telescope when you observe with it.  At that moment you become part of the history.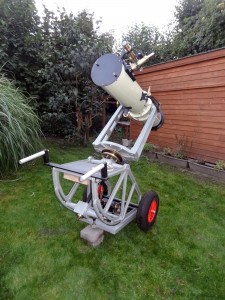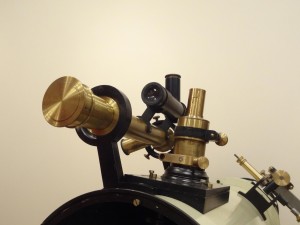 Today, there are two setups in my observatory: a classical 30cm (12") Cassegrain from the 1970's on a Fullerscopes MK IV mount, and a 4" Polarex on a Fullerscopes pier.
My personal philosophy is that classic and vintage telescopes have a double value: as a collector piece and as an instrument to be used.  I always try to offer instruments in perfect working condition.  In order to give these classic telescopes a longer life cycle I look to add modern features such as modern eyepieces and drives while always respecting the historical values.
Why my passion for Polarex and Unitron telescopes?  In part nostalgia, but also because of the build quality of these fine instruments.  They are so well conceived, very user friendly, and timeless in their eloquence.  There is not much that you can improve upon with the large Polarex and Unitron scopes.  That's not always the case for the other Japanese brands from the same period.
Xavier Debeerst, November 2014