DRAFT
---
Section 1, "The Glory Days", covers the period beginning with the earliest known information on Nihon Seiko, and continuing until the sale of Unitron USA in 1975.
Section 2, "The Transition", begins after the sale and documents the restructure of Unitron USA and the introduction of new telescope models in an effort to compete with new technologies and the Chinese market.
Section 3, "The Demise", addresses the timing and rationale for the closure of Nihon Seiko as a manufacturer and marketer of astronomical telescopes and accessories, and the decline of Unitron USA as a major astronomical supplier.
Section 1 – "The Glory Days"
The stage for Unitron USA was set long before Lawrence A. Fine and his wife Ellen traveled to Japan in search of high quality optical products to market in the United States.  It begins with the history of  Nihon Seiko Kenkyusho, LTD, the company they selected to supply their telescopes and accessories.   Unfortunately, very little has been documented about the company, and that includes both its beginnings and the reasons for its ending.
We do know that Nihon Seiko was a relatively small trading company that started business in the 1930's but announced in a 1992 letter to Unitron USA that it "was closing its doors".  It "manufactured" through sub-contractors or family owned vendors, then assembled, marketed, and exported high quality refractors prior to the Fine's visit in 1951.  The earliest Nihon Seiko advertisement uncovered dates to 1949 (just four years after WWII ended) and claims they were building 2-1/2 inch Newtonians and 3 inch refractors in their factory in Nozawa.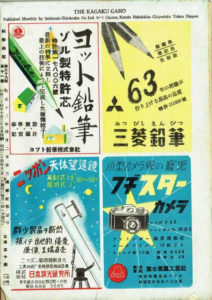 This earliest advertisement (1949) features a 2-1/2" reflector and 3″ refractor (50x-100x).  The other verbage  translates to "Absolutely beyond run-of-the-mill products; Honest, excellent, low cost, sold direct from the factory; Manufacturer of Japanese microscopes; Industrial technology subcontracting; Precision machining committee member; Nihon Seiko"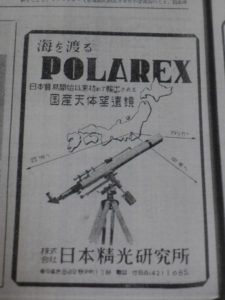 This 1951 Polarex advertisement includes the following verbage: "Crosses oceans; For the first time since Japan started overseas trading,
this is the first Japanese-made telescope ever to be exported; To Europe, To US, To Central America"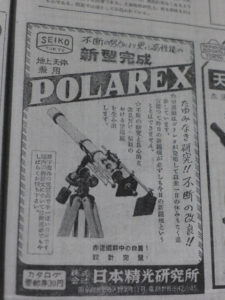 This 1953 Polarex advertisement includes the following: "Our unremitting efforts have yielded a new high-performance product; For terrestrial and astronomical dual use; Tireless R&D!! Unremitting improvements!!
* Ever since Galileo invented the telescope, not a day goes by when telescopes continue to improve
* Therefore yesterday's cutting-edge product is not necessarily today's cutting-edge product
* Only unremitting R&D and honest improvements can yield a reliable telescope
We are currently saturated with overseas subcontracting jobs; We apologize for the inconvenience, we ask for your patience regarding domestic orders; Our GEM is a white eyebrow among peers!! (In Chinese literature, the brother with the white hairs in his eyebrows was most superior); Perfect design!!"
As a result of researching copies of the Japanese Guide Book of Japanese Optical and Precision Instruments as early as 1952-53 and as late as 1973-74, I found that Nihon Seiko first appeared in the 1959-60 volume and advertised telescopes ranging in aperture from 1.6 inch to 10 inch using the SeikoScope brand.  The Polarex brand was introduced for the first time in the 1961-62 volume, on both 6 inch Photo-equatorial Models and Spotting Telescopes.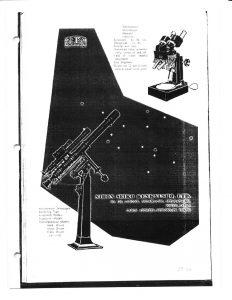 Over the years the telescopes were exported worldwide under various brands including Unitron.  As it turns out the Unitron brand was not confined to the USA only.  That brand was found marketed in Asia as well as in Europe.  Unitron (without Polarex) was also included with SeikoScope in the 1966-67 volume of the Japanese Guide Book of Japanese Optical and Precision Instruments.  Both Polarex and Unitron brands did appear in later volumes (1969-70 and 1973-74).
Additionally, Nihon Seiko did not limit itself to the marketing of what we know to be the Polarex and Unitron product line.  My research indicates that Nihon Seiko products were distributed to Vernonscope, University Optics, and Astro-Physics.  These products included eyepieces, viewfinders and guidescopes.
---
"Unitron USA"
I interviewed Philip Fine (Lawrence Fine's Son) via telephone on several occasions and finally met with him at the Fine's Summer home on Cape Cod in August 2016.  He provided a lot of details about his Father and his Father's early days in the business.
Lawrence Fine attended Harvard University and,  although his exact undergraduate degree is not known, he did have a mathematics background and also did graduate work in economics. According to Philip, his Dad "was a real tinkerer, always putting things together, was known to be able to fix anything".  His wife Ellen graduated from Radcliffe College, which she entered at the age of 16, graduating in her late teens.
Lawrence Fine's Father, Philip Fine, Sr, had been working in New York, in an "import business dealing in fibers, everything bristles, including bow strings, paint brush fibers, mostly very low end stuff; and most likely sourced from China" and not Japan. When he died in 1948 or early 1949 Lawrence took over his Dad's business but wasn't very happy with it. Apparently while considering a change he found an advertisement for telescopes and on a impulse he bought some. Philip recollects they were "pretty crappy, the lenses were loose" and that Lawrence repaired and sold them. "He decided this was much more interesting than selling pigs bristles and got into the optics business by accident."
According to several sources, Lawrence and his wife Ellen made their first trip to Japan in 1951 which is when they established contact with Nihon Seiko. Note: Photos were not of their first visit.
The very first line of telescopes was introduced in the October 1951 issue of Sky and Telescope magazine and included 1.6 inch and 2.4 inch Altazimuth and 2.4 inch Equatorial models.  All three of these models used NS numbers.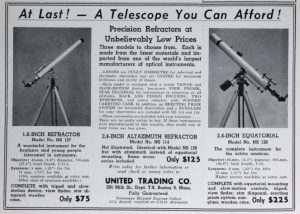 During the early years when Lawrence Fine owned Unitron USA, it was pretty much a small family run business. Both Lawrence and his wife were involved in it; his mother served as a part-time bookkeeper; and their two children, (Philip and Karen), had part-time jobs with the business during school breaks.  The company typically had no more than two dozen employees.
As part of the business, Lawrence was known to work with the engineers from Japan who he assessed to be quite good but he would tinker with their designs, primarily in the area of human engineering. Prototype products would come over from Japan and he would critique them and submit suggested improvements.
He was also very involved in the marketing and advertising aspects of the business, both of which became legendary.  Unitron USA was well known for it's innovative marketing, initiating such things as credit plans, and time payments.  Their advertisements in magazines such as Sky and Telescope and Astronomy were legendary.
---
Dave Komar,  May 23,  2018