4″ (102mm), FL 1500mm; Equatorial Refractor – complete with Equatorial mounting and slow motion controls for both declination and R.A., setting circles and veniers, tripod with levels, tripod shelf, 10X-42mm viewfinder, super rack and pinion focusing mechanism with clamps, 7 eyepieces, choice of UNIHEX or star diagonal and erecting prism system, sun projecting screen, solar aperture diaphragm, sunglass, pocket eyepiece case, dewcap, dustcap, wooden cabinets
Additional accessories available: DUETRON double eyepiece, Sun projecting screen with UNICLAMPS, Astro-Camera 220 with Accessories, UNIBALANCE Tube Assembly, 4″ UNICLAMP Camera Bracket, Clock Drive, Metal Fixed Pier
This first Model 152 is a pristine early 1950's model owned by Gerald Elkin.  The 4 inch equatorial was first advertised in Sky and Telescope in the May 1953 issue; the battery-operated illuminator to the tripod eyepiece shelf for the 4 inch Equatorial mount, which this scope is equipped with, was first advertised in July 1953.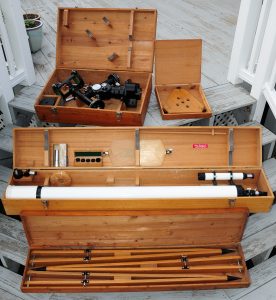 The second Model 152 featured is owned by Dave Komar.  It is actually a Unitron branded version of a Polarex Model 132.  Dave purchased it in 1989 while on assignment to Japan with the United States Air Force.  Although purchased in Japan, it is a Unitron telescope with one of the objective lenses with the green tinted multi-coatings. This model came with a standard focuser, no levels on the mount, the star diagonal option, and a set of 1.25 eyepieces (40mm Mono, 25mm Plossl, 18mm Plossl, 12.5mm Plossl, 9mm Plossl, 6mm Plossl).
The OTA mounted on a Universal Astronomics Unistar Deluxe mount is used regularly in support of the Culpeper Astronomy Outreach Program.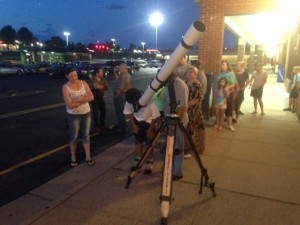 Note:  Photos of the mailing envelope and sales transaction documentation received with the telescope have been added.  The date of 26 March 1989 was about 3o years after I took delivery of my Model 114 in Pittsburgh, PA.  It shows I paid 298,000 Yen…can't seem to recall what the exchange rate was at the time, think somewhere around 155 Yen to the USD.