The topic of green tinted multi-coated objective lenses has been on the table for some time with the primary issues being: how many were manufactured, who manufactured them, and what is the typical quality of the lens as compared to the non-tinted Unitron/Polarex lens.
I have attached a paper written by Steve Franks, a Unitron owner and past telescope store owner who is very familiar with the Unitron: Crown Jewel's.  The paper proposes:  "This dark green coating is believed by many to be the hallmark of the house of Pentax whose custom, at the time, was to coat their lenses with a 1/2 wave layer of Magnesium Fluoride. The characteristic dark green coatings are multi-layer coatings involving a more costly process. The end result is that they improve the light transmission to 98%."
As potential confirmation of the linkage to Pentax, Roger Christian contacted me regarding the information in this feature.  He owns and operates a camera store and is very familiar with the Pentax brand.  In his words: "My understanding is that Pentax pioneered a method of applying multiple (up to 42 layers, I believe) of coatings to lenses in very precise fashion, repeatable on a day to day level which permitted them to seriously up the ante on optics at the time, late 1970's or early 1980's.  Each of the layers had to be a certain thickness, evenly and precisely applied, etc. The layers were extremely thin, my understanding that they were on the order of wavelengths of light thick, and like an oil sheen on water, which returns much the same sort of coloration range, by refracting different wavelengths of light from different layer thicknesses, that fact accounts for the range of colors you see returned from the surface of multicoated lenses. If you look close enough, you can see a veritable rainbow of colors from blue to red, but the greenish tint seems to be prominent, and it is possible that the specific coating process on astro lenses did return a strong green component, since those lenses were optimized (I presume) for viewing rather than photography. To be clear, as far as I know, it is NOT the glass itself which is tinted, only the optic's coating which return the green tint."
This section is intended to form the basis for information on the tinted 3″ and 4″ objective lenses that were found on some 1970's and 1980's Unitron/Polarex Models, and also found on replacement lenses.  Including my own non-serial numbered (N-SN) 4″ Model 152 Unitron green tinted multi-coated lens, I have had the opportunity to physically inspect and observe through four green tinted lenses (mine plus SN 5028, 5061, and 5106).  I have also had discussions with several owners who possess and have star tested a number of both non-tinted and tinted lenses.
As the registry is compiled I am attempting to gather information on dates purchased, potential variations in the tinting, and star testing.
Below is a registry of those telescopes/lenses including both serial numbered and non-serial numbered (N-SN) lenses.
3 inch Objectives:
C-528 – Dave Trott – 3″ 131-C Unitron
C-553 – Michael Eastman – 3" 131-C Unitron
C-557 – Tony White – 3″ 131-C Unitron
C-572 – Jim Hornaday – 3″ 131-C Unitron
C-574 – Unknown – 3″ 131-C Unitron
C-599 – Dave Trott- 3″ 131-C Unitron
C-601 – Alan Andersen – 4" 132-C Unitron
C-602 – Private Owner – 3″ Alt-azimuth Unitron (Deep Blue Tinted)
C-614 – Chris Wells – 3″ 131-C Unitron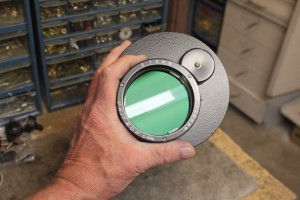 4 inch Objectives:
5028 – Private Owner – 4″ 152C Unitron
5029 – Clint Whitman – 4″ 155C Unitron (Purchased Eastern Canada)
5045 – Unknown – 4″ 152 Unitron
5051 – Vic Menard – 4" 155C Unitron
5053 – Stephen Franks – 4″ 160 Unitron (Acquired 1980)
5056 – Unknown – 4″ TBD Unitron
5058 – Unknown – 4″ 152 Unitron
5061 – Private Owner – 4″ 152 Unitron
5071 – Tony White – 4″ 152 Unitron
5106 – Private Owner – 4″ 160 Unitron
6002 – Max Lattanzi – 4″ 132 Polarex
N-SN – Dave Komar – 4″ 152 Unitron (Acquired March 1989)
N-SN – Dimitrios Barounis – 4″ Polarex Objective (Acquired Skylight Telescopes in UK)
N-SN – Dimitrios Barounis – 4″ Polarex Objective (Acquired Greek Polarex Distributor)
N-SN – Dave Trott – 4″ Unitron Objective (Deep Green Coating)
N-SN – Dave Trott – 4" Unitron Objective (Deep Green Coating)
N-SN – Dave Trott – 4″ 155C Unitron Objective (Mild Green Coating, Ordered 1973)
N-SN – Dave Trott – 4" Unitron Objective (Mild Green Coating)