2.4″ (60mm), FL 900mm; Equatorial Refractor – complete with Equatorial mounting and slow motion controls for both declination and R.A., tripod, 6X-23.5mm viewfinder, rack and pinion focusing, 5 eyepieces, choice of UNIHEX or star diagonal and erecting prism system, sunglass, dewcap, dustcap, wooden cabinets
Additional accessories available: DUETRON double eyepiece, Sun projecting screen with UNICLAMPS, Astro-Camera 220 with Accessories
The model featured is a 1970's vintage owned by Gerald Elkin.  It was purchased in April of 2011 from John Evans in Alaska. The tube assembly appears to be 1960's but the mount and tripod are later, probably 70's.  It includes the UNIHEX option and Clock Drive.
Gerald also owns a 1950's vintage Model 128 shown here side by side to the 1970's vintage Model 128.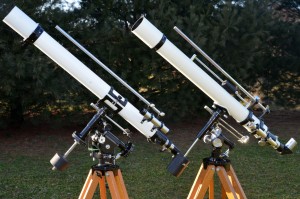 And additional photos of the 1950's vintage Model 128.  Note the lack of setting circles, the difference in aperture designation (60mm vs 62mm), type of mount, type of control and focus knobs, type of viewfinders.
This bulletin and these photos were passed on by an individual looking for a stated 1991 vintage Unitron Model 128 that he once owned and sold and was hoping to get back.  It obviously was optically a great scope, although the mount and tripod don't compare to earlier vintage Unitron and Polarex scopes.