The University of Western Ontario is located in London, Ontario and has two observatories, the Hume Cronyn Memorial Observatory and one on top of the Natural Sciences Centre.  According to a Royal Astronomical Society of Canada (RASC) Journal from 1965, " A six-inch Unitron Telescope and funds for the erection of a dome to house it were presented to the University by the Richard Ivey Foundation.  This instrument will be located on top of the Natural Science Centre Building now under construction and used for instructional purposes and for visitors to the Observatory."
A 1969 RASC Journal confirmed "a 6-inch refractor and dome, gifts of The Richard Ivey Foundation, were installed on the Natural Sciences Building."  Correspondence with the University in November 2016 confirmed the 6 inch Unitron still existed and was operational.  I discussed the current status and use of the Unitron with Professor Jan Cami, the primary user of the Unitron, in a November 30, 2016 interview and he said the scope was being used to teach astronomy students how to use a telescope.
The telescope is a Model 620, fixed pier mounted Photo-equatorial currently accessorized with a 60 mm viewfinder and a Super Unihex with original eyepieces. All photos are courtesy of Dale Armstrong.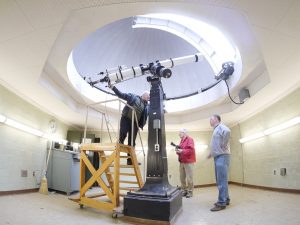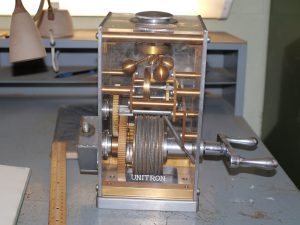 The University Staff provided this Flickr gallery of photos of the observatory and scope: https://www.flickr.com/photos/physicsandastronomyatwestern/sets/72157673073891413.