The Physics Observatory is located in Storrs, Connecticut and is associated with the University of Connecticut Physics Department.  I visited the Physics Department on April 20, 2015 and was given an opportunity to examine and photograph the twin Unitron 6 inch Optical Tube Assembly's (OTA's) that were on a mount specifically designed and engineered for the twin OTA's.  The scopes are housed in an observatory that sets on top of the Physics Department Building.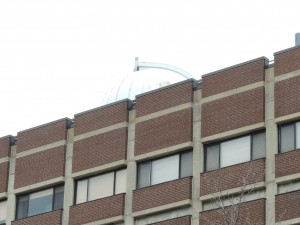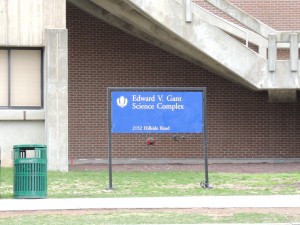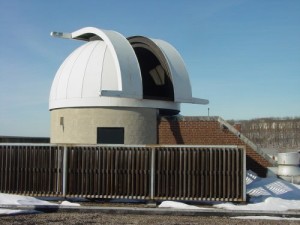 Additional information can be found at: http://www.phys.uconn.edu/observatory/.  The observatory is open for public viewing starting at 9 pm. Monday through Thursday, weather permitting. Also review the article at: http://secretuconn09.wordpress.com/2009/11/18/see-the-stars-i/ for additional information on the observatory as well as the planetarium located at the University.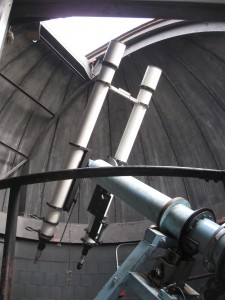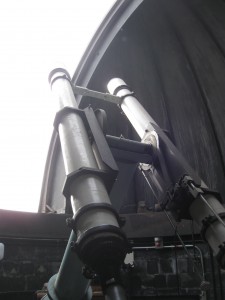 The original telescopes were thought to have been procured in the early 1960's.  The following 1976 inventory sheets indicate the existence of several accessories including an Astrograph Model 100, a Unihex with 6 eyepieces including the 60mm and 40mm, an eyepiece box with 5 eyepieces including a 56mm, solar viewing screens, and a finder scope.  The OTA's were ordered/accepted without the fixed pier and mounts and one engineered by the university staff.
The dual Optical Tube Assemblies (OTA) are used in support of the astronomy program at UConn as well as to support community education, as the two photos below indicate.  The photo on the left was taken in the Spring 2009 (note the Unihex on the table in the background), while the photo on the right was taken in July 2011.

Below is an early photo that appeared in a May 1965 issue of Sky and Telescope magazine.  The scopes were protected at the time with a lift off cover, which was eventually replaced with the current dome.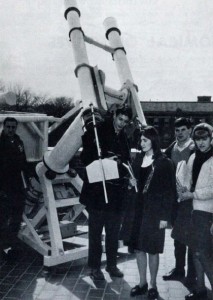 These are the current photos taken on April 20, 2015 showing the two different focuser's.  The one on the left has a Unitron branding only; the one on the right has the Unitron branding as well as the Diameter and Focal Length designation.  This is the first time I recall seeing a 153mm diameter marking.  The right focuser also has the graduated scale.
Both objective lense had identical markings showing the Unitron branding; 153mm diameter and 2500mm focal length.
These next several photographs give different perspectives of the mounting.
Finally I have a couple photos of what few accessories remain from the original scope: two Super Unihex Assemblies (one complete with a 60 mm EP) and one Eyepiece box with 4mm, 5mm, 6mm, 7mm, 12.5mm, and 18mm EP's.