These high quality telescopes included the Brandon 94 and Brandon 130 refractors.  They were  manufactured from 1987 to 1990 and used Roland Christen triplet APO lenses as well as a number of parts interchangeable with the Unitron brand.  These parts included the 3″ alt-azimuth and equatorial mounts, focuser, and the objective lens cell.  According to Don Yeier, parts were supplied direct from Nihon Seiko in Japan.
Vernonscope Brandon 94:  D 94mm, Fl 640mm; approximately 400 of the Brandon 94mm were produced; the Brandon 94mm, F/7 Catalog: Brandon 94 Brochure
The Brandon 94mm featured is owned by Dave Komar and is used as part of Outreach programs in Culpeper, Virginia, USA.  It has the 3″ Alt-azimuth mount with the counterweight.  My personal experience observing with this scope has shown it to be a pretty impressive scope regardless of the early technology.  It surpasses the optical quality of my Stellarvue SV110ED and will certainly hold its own with the vast majority of the APO's on the market today.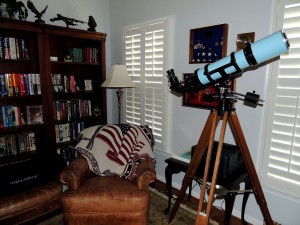 A comparison photo between a rare white version of the Brandon 94 (only 50 produced) and a RFT Unitron 75mm x 500mm: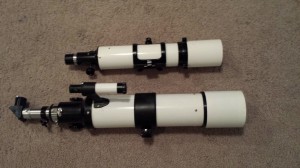 With a newly acquired Brandon 48mm Eyepiece:
Vernonscope Brandon 130: D 130mm, Fl 1040mm; approximately 100 of the Brandon 130mm were produced; the Brandon 130mm, F/8 Catalog:
Some Hybrid Unitron-Brandon Scopes: This document was provided by a private collector and is thought to date back to February 2012 and may have appeared in the Newsletter of the Eugene Astronomical Society: Unitron_Telescopes_EAS.  The document contains photos of two 4 inch, a 5 inch, and a 6 inch Unitron OTA, along with selected accessories attached to the OTA's.
What makes the scopes interesting is the use of Brandon objective lenses on several of the main and guidescopes…and the 6 inch, f/10 OTA!
Don Yeier's initial assessment was that the 3 inch and 4 inch Brandon lenses were original; and that the 6 inch objective may have been a Jaegers lens.