MODELS 220 and 330:
This light weight camera was designed especially for astrophotography using the objective lens as the principal optical element.  On the Model 220, a special 30mm focal length photo-ocular projected a magnified image onto the focal plane.  It was removable for prime focus photography.  Three double plateholders for 3 and 1/4″ x 4 and 1/4″ glass plates were included.  The Model 220 came in two versions: Model 220A was designed for Unitron telescopes; the Model 220B was designed for scopes using tubes.  These first photos were provided courtesy of Dave Trott:
The following photos courtesy of Xavier Debeerst: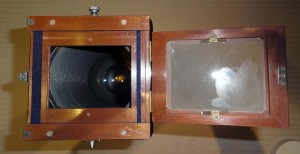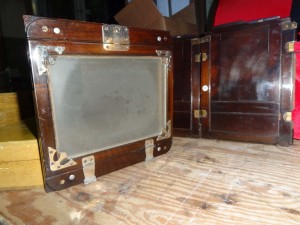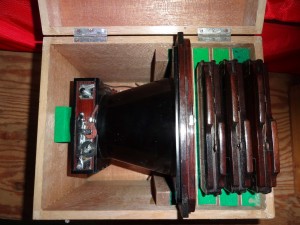 This next series of photos show a comparison between the Model 220 and the much larger Model 330.  Photos courtesy of a private source.  The Model 330 includes three double plateholders for 5″ x 7″ plates or cut film.The camera comes complete with ground glass focusing back , extension tubes, 50mm focal length photo ocular, eyepiece holder, filter, clamps, air operated shutter release, and cabinet.